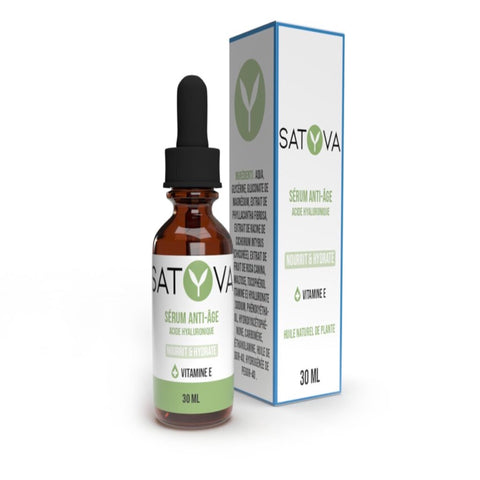 Satyva
CBD ANTI-AGING SERUM
CBD Anti-Aging Serum:
Your skin is put to the test: stress, pollution, impurities, skin aging… So take care of it and protect it. Our creams based on CBD (completely natural plant-derived molecule) will help you:

- Fight the signs of aging.
- Deeply hydrate the skin.
- Instantly reveal facial radiance.
- Reduce fine lines and wrinkles
- Reduce redness and acne tendencies.
This anti-aging serum instantly firms and revitalizes the skin to slow its aging. It also reboosts the skin, so that it becomes stronger and more resistant against external aggressions. Our CBD-based anti-aging serum for the face will accompany you by helping you regain or maintain a healthy epidermis.
Application tip:
- Apply morning and/or evening to the entire face, avoiding the eye area. The serum is applied on clean, dry skin.
- Apply two drops.
- Gently massage your face in circular motions to penetrate the product.
Capacity:
- 30ml - 50mg of CBD
Ingredients:
Aqua, Glycerin, Magnesium Gluconate, Phyllacantha Fibrosa Extract, Cichorium Intybus (Chicory) Root Extract, Cannabidiol (CBD), Rosa Canina Fruit Extract, Maltose, Tocopherol (Vitamin E) Hyaluronate Sodium, Phenoxyetha - nol, Hydroxyacetophe - none, Carbomer, Triethanolamine, Pegor-40 Oil, Hydrogenated Pegor-40.